What is Insourcing?
Insourcing – not to be confused with outsourcing – is a simple, cost-effective and highly successful way to reduce NHS waiting lists. We use NHS premises and equipment to deliver extra clinical capacity outside of normal use. In most cases, it simply extends the Trust's existing clinical service.
Due to a lack of capacity, NHS Trusts may find it difficult to meet referral-to-treatment (RTT) targets. Locum staff can fill gaps, but Trusts still need to manage the patient pathway, which may not be possible outside normal hours (e.g. evenings and weekends). On-site Surgical and Medical Capacity Solutions, commonly called "Insourcing", act in a complementary way to partially or totally manage the pathway for referred patients.
How can Insourcing help your NHS Trust?
The SHS Partners Insourcing model is simple yet highly effective. Your NHS Trust or Health Board retains capacity planning in-house whilst SHS Partners ensure patients are seen within your normal hospital environment by consultants, healthcare professionals and nursing staff, normally with day jobs elsewhere in the health service.
Service identifies waiting list capacity requirements & timetable
Extra capacity clinical care is delivered within NHS premises
Often outside normal use, such as evenings and weekends
Using qualified NHS-experienced consultants, nurses & professionals
Delivering waiting list reductions & seamless patient service
What Insourcing services do SHS Partners provide?
Our services can be adapted to suit your needs, whether it is a one-off contract operating over a weekend or a fully managed service over a much longer period. We work across 20 different areas of clinical specialty including pathology, endoscopy, ophthalmology and ENT, and expertise in telehealth, capital financing and consultancy. Services may include;
– Provision of procedures and consultations from over 20 different areas of clinical specialty
– Triage and clinical assessment of patients for a range of conditions
– Clinically appropriate diagnostics and treatment, in accordance with your Trust procedure
– Provision of onward referral or discharge as appropriate, in accordance with your Trust procedure
– Follow up patient appointments for the duration of the contract period
– Service delivery on-site at your Trust premises, using your equipment, IT systems and processes
What are the potential cost savings of Insourcing?
Cost is often perceived as the most significant barrier to not using insourced clinical solutions. But it needn't be the case. Our transparent pricing structure provides a solution designed to meet NHS budgets and staffing needs at below national tariff rates, with the reassurance of no hidden fees. With efficiencies come savings. Our transparent pricing structure gives NHS Trusts and Health Boards reassurance of no hidden fees, and below tariff rates, with solutions designed to meet your budget and staffing needs. Please contact us to discuss your individual requirements, and we will create a solution bespoke to your requirements.
How can SHS Partners Insourcing services be procured?
We are immensely proud to be members of two fully compliant NHS-wide frameworks for insourcing and outsourcing solutions. In addition, both frameworks are accessible across the whole of the NHS and cover both onsite and offsite surgical and medical capacity solutions.
"This Framework Agreement offers an easy and efficient way to maximise your in-house capacity, letting you reduce or eliminate the need for additional mobile facilities and expensive outsourcing. At the same time, in-patient and out-patient waiting times will be reduced, referrals will be expedited, service quality will be improved, and Trusts can release considerable cash savings."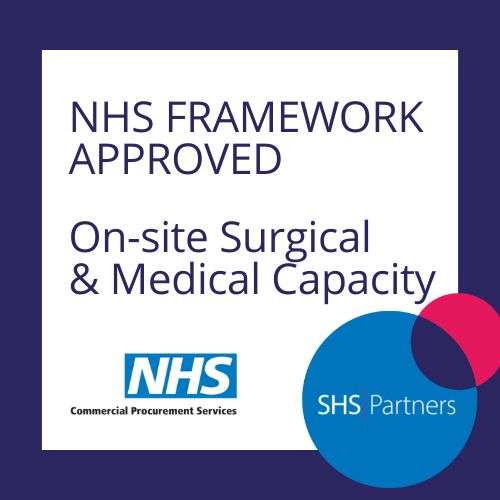 NHS On-site Surgical & Medical Capacity Framework
SHS Partners is one of only two suppliers on this highly prestigious NHS-wide framework. Managed by NHS Commercial Procurement Services, this simple-to-use agreement offers public sector organisations unique access to innovation and savings at no cost to access. Furthermore, all areas of clinical specialty can be procured for short and long-term agreements.
– No formal tendering saves valuable procurement time and money
– Open to all UK NHS public sector organisations
– Waiting list reduction
– Retain capacity planning in-house
– Procure quality, value for money, insourced or outsourced clinical services
– Patients seen within NHS premises or suitable and compliant settings
– Rigorous procurement covering legislative requirements
– Agile OJEU-compliant framework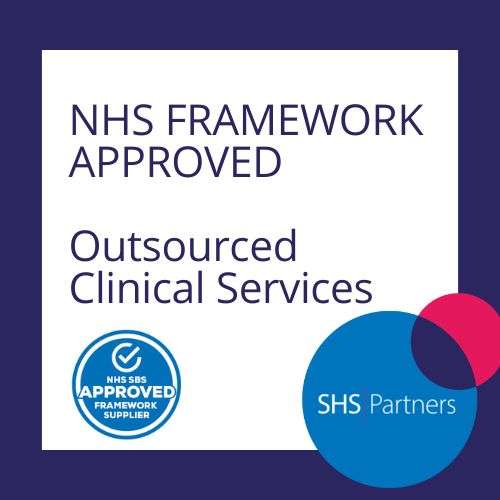 NHS Outsourced Clinical Services Framework
– Clinical Services covering all HRG Codes and Treatment Function Codes
– Full national coverage across all STP Regions
– Pathology and laboratory services and testing
– Additional support services
– Triage, Pre-Assessments and post-operative follow-ups and physiotherapy
– Administrative services
– Patient Booking Services and communications
– Facilities, theatre and equipment provision
– Step Down and Recovery Beds
– Discount structure depending on requirements

Experienced in over 20 areas of clinical specialty
SHS Partners is a team of dedicated healthcare professionals and clinicians with extensive experience gained across the private and NHS healthcare sectors. We have years of real-life experience in healthcare commissioning and integrated service provision. We are uniquely positioned to understand and proactively assist our clients in overcoming clinical and financial challenges.
Anaesthetics

Symptomatic Breast Services

 
Cardiology
De
rmatology
Endoscopy
ENT
Gastroenterology
General Surgery
Interventional Radiology
Maxillofacial
Neurology
Ophthalmology
Trauma & Orthopaedics
Pathology
Pain Management
Plastics
Radiology
Respiratory
Emergency Medicine
Rheumatology
Urology

Vascular